December 06, 2020
A new tunnel linking Kent and Essex will create five million tonnes of carbon dioxide (CO2), figures suggest.
Estimates say building the Lower Thames Crossing (LTC), a flagship project in the UK's roads programme, will emit 2 million tonnes of the greenhouse gas.
Meanwhile, traffic created by the road is expected to generate another 3.2 million tonnes over 60 years.
Environmentalists say the statistics make a mockery of the prime minister's claim to lead on climate change.
A government report published in March provisionally estimated the UK's net carbon emissions in 2019 to be 351.5 million tonnes.
The Thames crossing is said to be the UK's biggest roads project since the M25.
Ministers say the scheme, supported by the CBI and the AA, will bring a huge economic boost on both sides of the river and relieve congestion on the orbital motorway.
But the emissions figures, obtained through a Freedom of Information request after Highways England initially declined to release them, have angered environmentalists.
Campaigners say the tunnel should never have been approved without a debate on the projected CO2 impacts, and have demanded the government freeze all projects that will increase emissions.
Route of planned new crossing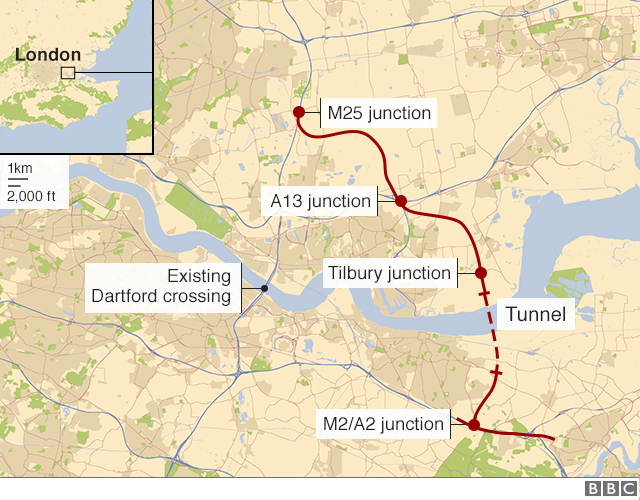 PM 'making mockery of promises'
Environmentalists have been campaigning for the Highways Agency to publish a CO2 analysis of its full road-building programme.
Other schemes will also generate CO2, such as the planned Stonehenge tunnel, which is expected to create half a million tonnes during construction.
Chris Todd, from green group Transport Action Network, told BBC News: "If the government is serious about tackling climate change, it can't keep ignoring the emissions roads are causing".
Boris Johnson, who will host a global climate conference on Saturday, has pledged to cut the UK's emissions by 68% against 1990 levels) by the end of this decade.
He's encouraging other nations to follow suit with ambitious offers as the climate warms.
Mr Todd said: "We welcome greater ambition from the PM on the international stage, but it's very easy to make announcements without taking action – and right now transport policy is making a mockery of his promises."
The eventual CO2 outputs for the roads should be lower than projected because of the advent of electric cars. But campaigners point out that making and running EVs still takes a great deal of energy and resources.
Credits: Image and Article: https://www.bbc.co.uk/news/uk-england-55202801